Annalisa Werner finds herself struggling to save her farm after her husband is killed, but to do so she needs help. Heavily steeped in old customs, Annalisa's father sends word back to family in Germany that Annalisa needs a new husband, and although she would prefer a marriage based on love, she resigns herself to an arranged marriage if it means her farm will be saved. Meanwhile, Carl Richards, a nobleman who is wrongly accused of murder, escapes prison and flees to America to find refuge and a chance at a new life. He is given work on Annalisa's farm until her new groom can arrive and take over. Carl's presence, however, changes Annalisa's life in more ways than one. She has never met a man who treats her as his equal showering her with kindness, tenderness, and respect. In time, she wonders if true love could be found with Carl, and if so, ponders what to do about her new groom once he arrives.

A Noble Groom

contains the making of a fairy-tale romance by presenting two characters from very different backgrounds who would never have encountered one another under different circumstances. The hardships of farm life draw Annalisa and Carl together transforming their working relationship, to a deep friendship, to a fiery romance. I especially enjoyed Hedlund's rich character development throughout the story. Both Carl and Annalisa emerge as different, much stronger people by the end of the novel. I was very fond of this novel! Very good read!

This review contains my own thoughts and opinions. I have not been compensated by the publisher or author in any way.

Winner of 2016 Christian Book Award for fiction and Christy Award for historical romance, best-selling author Jody Hedlund writes inspirational historical romances for both youth and adults.

Jody lives in central Michigan with her husband, five busy children, and five spoiled cats. Although Jody prefers to experience daring and dangerous adventures through her characters rather than in real life, she's learned that a calm existence is simply not meant to be (at least in this phase of her life!). When she's not penning another of her page-turning stories, she loves to spend her time reading, especially when it also involves consuming coffee and chocolate. For more information, visit her webpage at

http://jodyhedlund.com/​.

---

Hello, and welcome to my book blog! My name is Crystal Smith. Some say I have a reading addiction...

read more

Categories:

All
Action/Adventure
Autobiography
Biblical Fiction
Biography
Christian Fiction
Christian Suspense
General Articles
Historical Fiction
Historical Romance
Inspirational Romance
Mystery/Suspense
NonFiction
Novellas
Romantic Suspense
Top Ten Tuesday


RSS Feed

Books I'm Currently Reading!
Powered by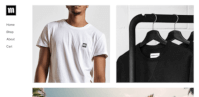 Create your own unique website with customizable templates.