Dru Porter is "tough girl" personified- an ex-marine with a calm confidence and overall superwoman capabilities. She's been assigned as a body guard to NFL superstar, Gray Fowler- bad boy, confident, and none to happy to have a woman "protecting" him. But the threatening messages Gray has been receiving require Gray's security detail to be escalated. Despite Gray's stubbornness, protests, and advances, Dru proves herself to be more than capable as Gray's protector. His seeming inability to charm and woo Dru's affections, along with the time spent getting to know the amazing woman beneath the tough veneer, begin to break down the barriers to Gray's heart. And although she's maintained a coolness toward him, Dru also begins having feelings for Gray that threaten her professional position. The two finally pursue a romantic relationship when Dru discharges herself from Gray's protection team. However, Gray's inability to move toward commitment and the continued threats against him create rifts between the couple that may be insurmountable.

In past books from the Porter family series where Dru has made an appearance, I wondered who could possibly be matched to Dru romantically because of her tough, kick-butt personality. Wade hit the nail on the head with a perfect match in Gray Fowler! Interactions between the two were amusing because of their strong spirits and opposing personalities. The romantic tension sensed early on transformed their professional interactions into a passionate, heated (yet clean) romance later on. Wade did a superb job of carrying their strong personalities throughout the plot creating two of the most endearing- and made for each other- characters in the series!

This review contains my own thoughts and opinions. I have not been compensated in any way by the publisher or author for this review.

Becky's a California native who attended Baylor University, met and married a Texan, and settled in Dallas. She published historical romances for the general market before putting her career on hold for several years to care for her three children. When God called her back to writing, Becky knew He meant for her to turn her attention to Christian fiction. She loves writing funny, modern, and inspirational contemporary romance! She's the Carol Award, INSPY Award, and Inspirational Reader's Choice Award winning author of the Bradford Sisters Romance series, the Porter Family series, My Stubborn Heart, and Love in the Details. For more information, visit the author's website at

http://beckywade.com

.

---

Hello, and welcome to my book blog! My name is Crystal Smith. Some say I have a reading addiction...

read more

Categories:

All
Action/Adventure
Autobiography
Biblical Fiction
Biography
Christian Fiction
Christian Suspense
General Articles
Historical Fiction
Historical Romance
Inspirational Romance
Mystery/Suspense
NonFiction
Novellas
Romantic Suspense
Top Ten Tuesday


RSS Feed

Books I'm Currently Reading!
Powered by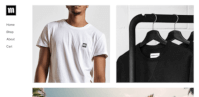 Create your own unique website with customizable templates.