Casey Cox is running for her life. She's been accused of brutally stabbing her best friend and is in hiding until she can prove her innocence. After receiving a mysterious package from her deceased friend, Casey believes that dirty cops are behind both his murder and her father's. Meanwhile, Dylan Roberts has returned from his deployment oversees to learn that his childhood friend, Brent, was murdered and that Casey is the primary suspect. Brent's parents hire Dylan to track down Casey and bring her home so justice can be served. But the more Dylan investigates the murder himself and gets push back from the detectives working the case, the more inconsistencies he finds. Although he's on the hunt for Casey, Dylan questions if she's Brent's real killer.

Blackstock presents readers with a thrilling and intense page-turner in

If I Run.

Danger follows Casey everywhere she hides. Readers are given bits and pieces to the mystery of Brent's murder along the way creating additional suspense. The alternating first-person accounts of the drama provide a unique prospective. I felt however, that the "Laura Daly" point of the plot was a little out of place​. Rather convenient that Casey

happened

to see that newspaper in the background of the photo....and what would possess her to investigate Frank's house based on something seemingly so insignificant? If it wasn't the vehicle used to get Casey and Dylan's paths to cross, I would just say that Casey had a very active imagination. It seemed that this part of the story was only added to give the reader something more to digest. Overall,

If I Run

provided a good foundation for this series full of danger and excitement.

This review contains my own thoughts and opinions. I received a complimentary copy of this book from the publisher.

Terri Blackstock has sold over seven million books worldwide and is a New York Times bestselling author. She is the award-winning author of Intervention, Vicious Cycle, and Downfall, as well as such series as Cape Refuge, Newpointe 911, Sun Coast Chronicles, and the Restoration Series. Visit her website at www.terriblackstock.com.

---

Hello, and welcome to my book blog! My name is Crystal Smith. Some say I have a reading addiction...

read more

Categories:

All
Action/Adventure
Autobiography
Biblical Fiction
Biography
Christian Fiction
Christian Suspense
General Articles
Historical Fiction
Historical Romance
Inspirational Romance
Mystery/Suspense
NonFiction
Novellas
Romantic Suspense
Top Ten Tuesday


RSS Feed

Books I'm Currently Reading!
Powered by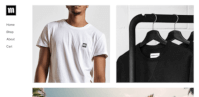 Create your own unique website with customizable templates.