Book 5 of St. James's Shower & Shelter Artist Collective Series brings back several characters from previous books in the series. This novel features Macy's sister, Tabitha- a single mom trying to make it in the big city- and Drake- Macy's friend from college who has built a reputation as one of the most sought after photographers in New York City. Tabitha meets Drake after he and Macy show up at Tabitha's work to pick up Tabitha's daughter, Isabel. While there an incident occurs with Tabitha's boss who has been sexually harassing her causing Drake to take a protective stance for her. Drake and Isabel already share a special bond, but as friendly encounters begin to increase between him and Tabitha, a romance ensues.

I have enjoyed many of the previous books in this series, but this one left me feeling like something was lacking in the story line. I felt that there was not enough development between Tabitha and Drake's "relationship" and that the story was rushed. I believed that they "liked" each other, but it seemed more of an infatuation instead of the stuff that romance and marriage are made of. One bright note to the story was Isabel! Her character was adorable!

This review contains my own thoughts and opinions. I have not been compensated in any way by the publisher or the author for my review.

Brooke St. James is a bestselling author of contemporary romance novels with Christian and inspirational themes and happy endings. She was born and raised in south Louisiana but has had the opportunity to travel and live throughout the U.S. An avid reader, writer, audio book addict, and fan of all things artistic, Brooke constantly has her hands in some creative activity. She's currently back home in Louisiana enjoying life with her husband, children, and extremely lazy Basset Hounds.

To find out more about Brooke visit her Facebook page at:

https://www.facebook.com/brookesaintjamesauthor.

---

Hello, and welcome to my book blog! My name is Crystal Smith. Some say I have a reading addiction...

read more

Categories:

All
Action/Adventure
Autobiography
Biblical Fiction
Biography
Christian Fiction
Christian Suspense
General Articles
Historical Fiction
Historical Romance
Inspirational Romance
Mystery/Suspense
NonFiction
Novellas
Romantic Suspense
Top Ten Tuesday


RSS Feed

Books I'm Currently Reading!
Powered by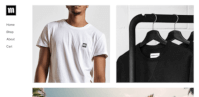 Create your own unique website with customizable templates.