Naive, small town girl, Zoe Etheridge, has her sights set on joining the famed Shower & Shelter Artist Collective in New York City. However, she is vexed to find out that slots for the much coveted Collective are very competitive. Notwithstanding, Collective manager, Lane Alexander, gives Zoe the benefit of the doubt and meets with her asking her to demonstrate her painting skills. Zoe's unconventional, freestyle method to painting showcases her talent for Lane, but it's the artist herself that has him most captivated. Despite their immediate chemistry, Zoe and Lane have to set aside any romantic notions and stay within the "no dating" rules of the Collective if Zoe wants to keep her spot. But as their feelings for one another grow- and competition vies for Zoe's attention- the two find it more and more difficult to mask their feelings.

I

so

loved this story! My hopes were dashed with the "no dating" rule and I wondered if Zoe and Lane's budding romance would survive. St. James beautifully portrayed the emotional struggle the two endured from pining for one another, to jealousy over potential romantic rivals, to the culmination of their romantic hopes! One of the best in this series, in my humble opinion!

This review contains my own thoughts and opinions. I have not been compensated by the publisher or author in any way.

Brooke St. James is a bestselling author of contemporary romance novels with Christian and inspirational themes and happy endings. She was born and raised in south Louisiana but has had the opportunity to travel and live throughout the U.S. An avid reader, writer, audio book addict, and fan of all things artistic, Brooke constantly has her hands in some creative activity. She's currently back home in Louisiana enjoying life with her husband, children, and extremely lazy Basset Hounds.

To find out more about Brooke visit her Facebook page at:

https://www.facebook.com/brookesaintjamesauthor.

---

Hello, and welcome to my book blog! My name is Crystal Smith. Some say I have a reading addiction...

read more

Categories:

All
Action/Adventure
Autobiography
Biblical Fiction
Biography
Christian Fiction
Christian Suspense
General Articles
Historical Fiction
Historical Romance
Inspirational Romance
Mystery/Suspense
NonFiction
Novellas
Romantic Suspense
Top Ten Tuesday


RSS Feed

Books I'm Currently Reading!
Powered by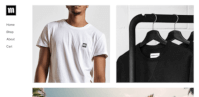 Create your own unique website with customizable templates.