The two main characters, Ethan and Macy, meet through a casual dinner with mutual friends when both become intrigued with the other. Their paths cross a couple more times through their mutual friendships, leading to the two of them spending time together alone- sometimes on a date, sometimes just casually hanging out. At the beginning, Ethan is non-committal to the point of not even calling Macy after they've spent time together leaving Macy confused about the status of their "relationship". Eventually, Ethan decides he wants to date Macy, and even casually suggests they get married before the end of the book.

​

This was not one of my favorites from this series. I had great difficulty believing that Macy and Ethan would be together as a couple in the romantic sense. Not only did I feel that there wasn't enough development in their story, but their interactions were more on the "friends that flirt" plane than the "you're my soul mate and I want to marry you" plane. Ethan's casualness about their relationship- especially his nonchalance about getting married- was actually a turn-off for me. And at times, their interactions seemed just a bit silly and immature. Wish I could give a better review.

This review contains my own thoughts and opinions. I have not been compensated in any way by the publisher or the author for my review.

Brooke St. James is a bestselling author of contemporary romance novels with Christian and inspirational themes and happy endings. She was born and raised in south Louisiana but has had the opportunity to travel and live throughout the U.S. An avid reader, writer, audio book addict, and fan of all things artistic, Brooke constantly has her hands in some creative activity. She's currently back home in Louisiana enjoying life with her husband, children, and extremely lazy Basset Hounds.

To find out more about Brooke visit her Facebook page at:

https://www.facebook.com/brookesaintjamesauthor.

---

Hello, and welcome to my book blog! My name is Crystal Smith. Some say I have a reading addiction...

read more

Categories:

All
Action/Adventure
Autobiography
Biblical Fiction
Biography
Christian Fiction
Christian Suspense
General Articles
Historical Fiction
Historical Romance
Inspirational Romance
Mystery/Suspense
NonFiction
Novellas
Romantic Suspense
Top Ten Tuesday


RSS Feed

Books I'm Currently Reading!
Powered by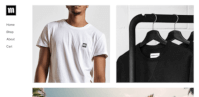 Create your own unique website with customizable templates.