About the Book:

The Secret Life of Sarah Hollenbeck is a delicious little tale about love at first sight, reconciling our past with the beautiful future God has in store for us, and taming intense physical attraction within the confines of a Christ-honoring relationship. After her marriage dies a slow and painful death and she catches her husband cheating on her, Sarah Hollenbeck finds her voice as a trashy romance novelist catapulting her into both fame and fortune. But when she accepts Christ as her Savior, she chooses to reinvent herself as a Christian romance novelist as her newfound faith creates a strong desire to show women that love, passion, and desire

can

fit into God's plan for love while still honoring Him. When sparks fly after a chance encounter with a dashing man at her church, Sarah is convinced she has found her soul mate. The only complication is that her dream guy just so happens to be her new pastor! As Ben and Sarah pursue the unexpected love growing between them, they face many challenges growing both personally and in their relationship with each other. Chief among the challenges are the awkward and very public nature of a pastor dating a reformed trashy romance novelist along with Ben and Sarah's intense physical chemistry. When both of their pasts collide, a storm rages that tests their commitment to one another, their faith, and their futures.

My Thoughts:

First, let me address the "realness" of this book- THANK YOU Bethany Turner for tactfully addressing the very real struggle of sexual attraction within a Christian romantic relationship. Christians don't hide in caves- we very much experience the same desires as anyone else. Turner has set the record straight that these intense desires are not only normal but were created by God and

can

be shared between a man and woman within the boundaries that He has set. She also makes very clear that God's boundaries for sex are designed to be shared between a husband and wife. Ben and Sarah's struggle- and triumph- of keeping their intense physical attraction for each other under control demonstrates that Christian couples don't have to bend to pop culture's version of romance, but can instead seek to glorify God while still expressing love physically in appropriate ways. In addition to the sizzling chemistry between these two, I also appreciated the maturity displayed in other ways in their relationship. Ben's admission of his vulnerability and weakness during a tempting encounter showed the depth of trust he had with Sarah, and her response of "being his strength" in that moment showcased the spiritual maturity- and love for Ben- that Sarah was developing. Likewise, the multiple trials they experienced were handled with both realism and grace keeping their commitment to each other and to Jesus at the center of it all. This will be a book I take off my shelf to read again and again! Loved it!

I received a complimentary copy of this book from the publisher. However, this review reflects an honest view of my own thoughts and opinions regarding this book.

Bethany Turner is the director of administration for Rock Springs Church in Southwest Colorado. A former VP/operations manager of a commercial bank and a three-time cancer survivor (all before she turned 35), Bethany knows that when God has plans for your life, it doesn't matter what anyone else has to say. Because of that, she's chosen to follow his call to write. She lives with her husband and their two sons in Colorado, where she writes for a new generation of readers who crave fiction that tackles the thorny issues of life with humor and insight. To learn more, visit Bethany's website at

http://seebethanywrite.com/

.

---

Hello, and welcome to my book blog! My name is Crystal Smith. Some say I have a reading addiction...

read more

Categories:

All
Action/Adventure
Autobiography
Biblical Fiction
Biography
Christian Fiction
Christian Suspense
General Articles
Historical Fiction
Historical Romance
Inspirational Romance
Mystery/Suspense
NonFiction
Novellas
Romantic Suspense
Top Ten Tuesday


RSS Feed

Books I'm Currently Reading!
Powered by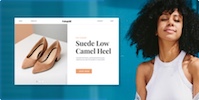 Create your own unique website with customizable templates.