After ending her long-distance romance, opening a very successful restaurant with her brother, and mourning the passing of her mother, Juliette D'Alisa is still trying to find her grounding and adjust to her new life. She receives a shock when one day she sees her ex in Portland, miles away from his Tennessee roots. Their chance meeting resurrects both of their feelings. Confused, Juliette throws herself into continuing the research into her family's hidden past. Along the way, Juliette discovers who she is- and what she wants- as she uncovers her family's past and her own deep-seated love for Neil.

First of all, this book was very different than any other book I have read. It is definitely geared toward foodies with lots of cooking lingo and references. I thought the recipes at the end of each chapter for a dish highlighted within the chapter was a nice touch (although all of the dishes were too fancy for this simple Southern cook). With that being said, since I

am not

a foodie, this part of the story was very boring to me. Second, the plot line with Neil and especially the family's past that Juliette had been researching was obviously a continuation from the first two books in the series. At times, I felt lost and as if I was "missing" part of the story. Once the drama with Neil was resolved and the journal was recovered at the family chateaux in France, the story picked up interest for me and was quite intriguing. Overall, not my thing subject-wise, but foodies will love it!

This review contains my own thoughts and opinions. I have not been compensated by the author or publisher in any way.

​

Hillary Manton Lodge

is the author of

A Table by the Window, Reservations for Two, Simply Sara

, and the Carol Award-nominated

Plain Jayne

. A storyteller at heart and a University of Oregon journalism graduate, Hillary discovered the world of cuisine during her internship at Northwest Palate Magazine. In her free time she enjoys experimenting in the kitchen, watching foreign films, and riding motorcycles. She lives in Portland with her husband, Danny, and their Cavalier King Charles Spaniel, Shiloh.

---

Hello, and welcome to my book blog! My name is Crystal Smith. Some say I have a reading addiction...

read more

Categories:

All
Action/Adventure
Autobiography
Biblical Fiction
Biography
Christian Fiction
Christian Suspense
General Articles
Historical Fiction
Historical Romance
Inspirational Romance
Mystery/Suspense
NonFiction
Novellas
Romantic Suspense
Top Ten Tuesday


RSS Feed

Books I'm Currently Reading!
Powered by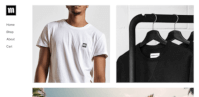 Create your own unique website with customizable templates.