When the mayor of small town Peaks, Iowa, sees the potential of increased tax revenue with the pending surge of employees at a new company being built nearby, Robin Price finds herself in the battle of a lifetime. Part of the mayor's plan is to build modern condominiums in the same spot where Robin's beloved cafe and a thriving ministry are housed. When handsome Ian McKay shows up from the development firm using his charm to convince the town's people that the new condos will be good for the town's growth as the mayor suspects, Robin prepares to fight for the future of her cafe. As Ian turns his charm on Robin hoping to convince her to sell her cafe, his feelings and attraction for her betray him placing him in a predicament- he can choose to save his family's company by moving forward with the development plans in Peaks or he can follow his heart and pursue a romance with Robin. As their business conversations turn personal, Robin and Ian must wade through tensions surrounding the condo development, past grief, present fears and hesitation about the future if they desire a chance at new love.

Wishing on Willows

continues the next chapter in the lives of the characters from

Wildflowers from Winter

. Tensions between Robin and Ian for her cafe property are palpable and leap from the page as Ganshert draws the reader in such a way that she feels a part of the turmoil. While the romance element is slow to develop, the author uses the details that unfold from Ian and Robin's pasts to link their hearts resulting in a satisfying ending for both the cafe and Robin and Ian on a personal level.

This review contains my own thoughts and opinions. I have not received any compensation from the publisher or the author.

Katie Ganshert is the author of seven novels and several works of short fiction. She has won both the Christy and Carol Awards for her writing and was awarded the RT Reviews Reviewers Choice for her novel, The Art of Losing Yourself. Katie makes her home in eastern Iowa with her family. To learn more, visit her website at

http://katieganshert.com/

​.

---

Hello, and welcome to my book blog! My name is Crystal Smith. Some say I have a reading addiction...

read more

Categories:

All
Action/Adventure
Autobiography
Biblical Fiction
Biography
Christian Fiction
Christian Suspense
General Articles
Historical Fiction
Historical Romance
Inspirational Romance
Mystery/Suspense
NonFiction
Novellas
Romantic Suspense
Top Ten Tuesday


RSS Feed

Books I'm Currently Reading!
Powered by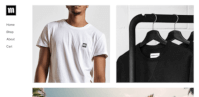 Create your own unique website with customizable templates.